Bruce Lee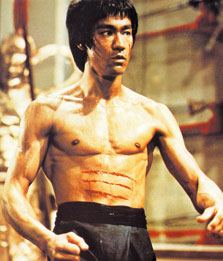 Bruce Jun Fan Lee was born in the hour of the Dragon, in the year of the Dragon on November 27, 1940 at the Jackson Street Hospital in San Francisco's Chinatown. Today, a plaque in the hospital's entry commemorates the place of his birth. Bruce's birth, in the hour and the year of the Dragon, is a powerful symbol in Chinese astrology. It would be a strong omen of the powerful life that was to be lived by Bruce Lee and the explosive impact his life would have on countless others.
Back to Hong Kong
With the trouble brewing in the states due to WWII, his parents returned to Hong Kong when Bruce was three, and he lived there until 18. The hardships endured in his early years left Bruce weak, and he was prone to illness as a child. As a means of gaining strength, and combating the taunts of the English schoolboys in his neighborhood, Bruce began his study of martial arts (gung fu) at 13.
By the time Bruce entered high school, he was no longer sickly and weak. With a strong, graceful body honed from years of disciplined study, Bruce won championships in a variety of mediums: boxing and dance among them. Bruce's natural grace and hard-earned strength served him well when, at 18, he left for his birth country with only $100 in his pocket.
Bruce returns to United States—and begins his legacy
Shortly thereafter, Bruce left San Francisco for Seattle, where he studied philosophy at the University of Washington, where he paid his way through school by teaching gung fu. Over the next few years, Bruce became dissatisfied with the limits of gung fu, and began to incorporate other disciplines, thus evolving his practice towards the eventual Jeet Kune Do.
Develops Jeet Kune Do and meets Jerry
Bruce married and moved to Oakland, and expanded his teaching, opening more schools. At the same time, charismatic and handsome, Bruce was discovered by Hollywood. Soon after, his son Brandon Bruce Lee was born. A few years later, Bruce and his wife added daughter, Shannon, to the mix. All the while, Bruce kept refining and building his Jeet Kune Do practice. It was during those early years, before Bruce became a household name, that he met and mentored Jerry Poteet.
In Jerry, Bruce had a disciplined, hard-working student. A man worthy of his innermost secrets and techniques.